Let's Make Your Sentences Shine.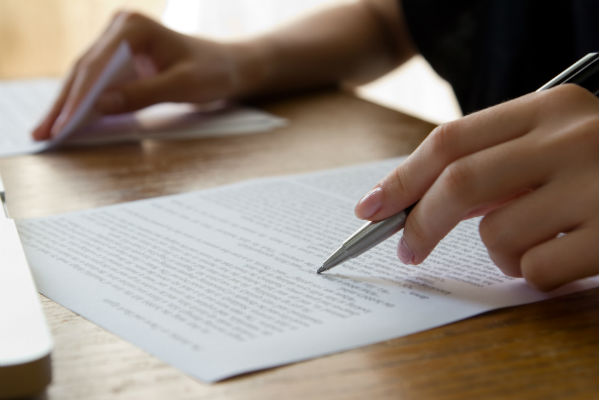 Grammar, Grandeur & Guidance for Students of All Ages.
The easiest way to win or lose marks is just in how you present your ideas. Nearly every essay ever written could be improved and added to by a dedicated proof-reader, and luckily you've found us. For a bargain rate, we will comb through your drafts and perfect your language to a publishable level. If you want more, we can restructure your ideas and purify your syntax so as to clarify your mind and sharpen your voice for good. You deserve to have your intelligence recognized, and with our help you need never be tripped up again. 





Real feedback from human editors

Peace of mind when you need it the most

Affordable packages, always

Our bread and butter. You send us your drafts of any written piece of any length and difficulty-level, and within a day, three days or a week, we'll correct all possible typos, errors and worries, leaving you with a pristine document.
Are you worried about your paragraphs? For a small add-on fee we can help your ideas breathe by adding gaps, linking your arguments and completely remaking the narrative flow of your essay. You'll be totally readable.
The Works. This is the full literary makeover. If you want your writing to be pristine, well-structured and deeply compelling, this is your nuclear option. Like a sentient thesaurus, we will revamp and refurbish your entire writing style to win over marker, reader and parent alike.
Ready to give your work the polish it deserves?


I'm a PhD candidate, lecturer, tutor, photographer, screenwriter, tour-guide and freelance proofreader, based in Canterbury, Kent.
I have a first-class Master of Studies degree in Film Aesthetics from Keble College, Oxford and a Bachelor of Arts (Hons.) in Screenwriting (Summa cum laude) from the University of Cape Town. I am a Grammar Stalinist, an obsessive writer and an understanding teacher. Rest assured that refining and fine-tuning any piece of writing, no matter how senseless, makes me feel like I'm making the world a better place and fulfils me at nearly every level. Like a good psychiatrist, I will never judge you, only help you express yourself that much better.

Why Pay for a Proofreader?

Polish Makes Perfect.
As a young teacher, I know first-hand that appearance is everything. The more typos, malapropisms and strained sentences I mark, the more I'm obliged to slash away at a grade until it dwindles to far less than it deserves. Honestly, the quickest and easiest way to jump from a third to a second or a second to a first is to pay for it legally. That is, to pay me.

Style is Substance.
In an ideal world, we'd all be perfect wits and wordsmiths. But just as you'd hire an accountant to help you settle your taxes, you can hire me to aid your writing. It takes a lifetime for an unobsessed, unpretentious person to hone their style and perfect their writerly discipline. And in the meantime you can hire me.

Marking is Negative. Proofing is Positive.
I'm sure you've been terrorized at one time or another by the red-ink corrections and fatuous comments of a marker or supervisor taking you up on your English as well as grading your ideas. A proof-reader, in contrast, is an angel in your corner, shielding your writing from all the pedantry and snobbery the world can throw at you.

Academia is Shallow.
It's a profound injustice that intelligent people in all scholarly disciplines from all the world's countries are often judged (consciously or not) for making mistakes in this labyrinthine language. It may seem unavoidable. But hiring a proof-reader is the best and easiest form of defense.

Grammarly is Inhumane.
Using a software program to proof-read your writing would be like using Google Translate to read an entire book. It can spoon-feed you suggestions for correcting your language, but it can't interpret or intuit everything you actually want to say. That's my job. If you want to learn to enjoy and appreciate the living rules of our language, you'll need to observe them being used by a sympathetic human-being. 

You'll Be Blown Away. (Really).
Now let me go for broke and toot my own horn: I took on occasional proof-reading jobs for friends and classmates throughout my undergraduate degree, and just by being kind and efficient whilst tidying their thesis proposals and scholarship applications, I would always earn their eternal gratitude. There is something infinitely relieving and gratifying in getting to read the best version of yourself before you submit your writing to a higher power. Let's join forces.


99%
Achieve the academic success you deserve

Your document is proofread to remove all language errors (in grammar, punctuation, spelling, and more). It is also expertly edited to improve the style, clarity, sentence structure, and coherence.

95%
Perfect and precise referencing

To ensure that your references are accurate and perfect, we have in-depth knowledge of several referencing guidelines such as the APA, MLA, Harvard, Chicago, IEEE, OSCOLA, and MHRA styles.

100%
Completely confidential and secure

You will get full credit for your finely edited academic document, with our strict confidentiality policy. In addition, our servers use 256-bit SSL encryption technology so that your documents are completely secure.
Ready to give your work the polish it deserves?